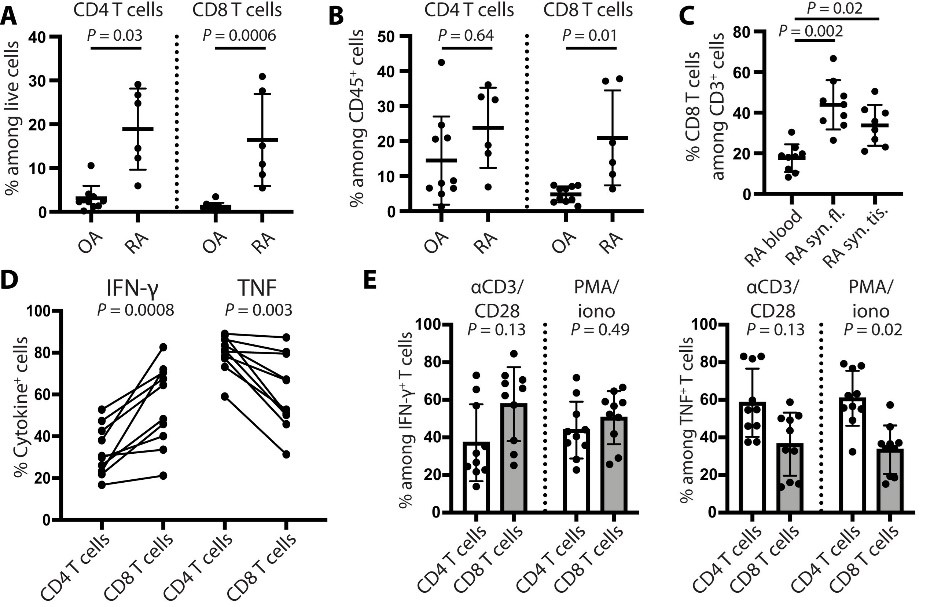 Granzyme K+ CD8 T cells form a core population in inflamed human tissue.
Jonsson AH, Zhang F, Dunlap G, Gomez-Rivas E, Watts GFM, Faust HJ, Rupani KV, Mears JR, Meednu N, Wang R, Keras G, Coblyn JS, Massarotti EM, Todd DJ, Anolik JH, McDavid A; Accelerating Medicines Partnership RA/SLE Network, Wei K, Rao DA, Raychaudhuri S, Brenner MB.
Sci Transl Med. 2022 Jun 15;14(649):eabo0686. doi: 10.1126/scitranslmed.abo0686. Epub 2022 Jun 15.
PMID: 35704599

Analysis of Complement Gene Expression, Clinical Associations, and Biodistribution of Complement Proteins in the Synovium of Early Rheumatoid Arthritis Patients Reveals Unique Pathophysiologic Features.
Banda NK, Deane KD, Bemis EA, Strickland C, Seifert J, Jordan K, Goldman K, Morgan BP, Moreland LW, Lewis MJ, Pitzalis C, Holers VM.
J Immunol. 2022 Jun 1;208(11):2482-2496. doi: 10.4049/jimmunol.2101170. Epub 2022 May 2.
PMID: 35500934

Dynamic spectrum of ectopic lymphoid B cell activation and hypermutation in the RA synovium characterized by NR4A nuclear receptor expression
Meednu N, Rangel-Moreno J, Zhang F, Escalera-Rivera K, Corsiero E, Prediletto E, DiCarlo E, Goodman S, Donlin LT, Raychauduri S, Bombardieri M, Pitzalis C, Orange DE, Accelerating Medicines Partnership Rheumatoid Arthritis and Systemic Lupus Erythematosus (AMP RA/SLE) Consortium; McDavid A , Anolik JH.
Cell Rep. 2022 May 3;39(5):110766. doi: 10.1016/j.celrep.2022.110766.
PMID: 35508128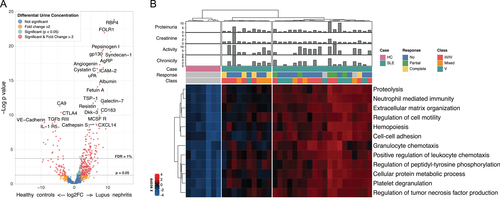 Urine Proteomics and Renal Single-Cell Transcriptomics Implicate Interleukin-16 in Lupus Nephritis
Fava A, Rao DA, Mohan C, Zhang T, Rosenberg A, Fenaroli P, Belmont HM, Izmirly P, Clancy R, Trujillo JM, Fine D, Arazi A, Berthier CC, Davidson A, James JA, Diamond B, Hacohen N, Wofsy D, Raychaudhuri S, Apruzzese W, Accelerating Medicines Partnership in Rheumatoid Arthritis and Systemic Lupus Erythematosus Network; Buyon J, Petri M.
Arthritis Rheumatol. 2022 May;74(5):829-839. doi: 10.1002/art.42023. Epub 2022 Apr 16.
PMID: 34783463

SLAMF7 engagement superactivates macrophages in acute and chronic inflammation.
Simmons DP, Nguyen HN, Gomez-Rivas E, Jeong Y, Jonsson AH, Chen AF, Lange JK, Dyer GS, Blazar P, Earp BE, Coblyn JS, Massarotti EM, Sparks JA, Todd DJ; Accelerating Medicines Partnership (AMP) RA/SLE Network, Rao DA, Kim EY, Brenner MB.
Sci Immunol. 2022 Feb 11;7(68):eabf2846. doi: 10.1126/sciimmunol.abf2846. Epub 2022 Feb 11.
PMID: 35148199

High incidence of proliferative and membranous nephritis in SLE patients with low proteinuria in the Accelerating Medicines Partnership
Carlucci PM, Li J, Fava A, Deonaraine KK, Wofsy D, James JA, Putterman C, Diamond B, Davidson A, Fine DM, Monroy-Trujillo J, Atta MG, DeJager W, Guthridge JM, Haag K, Rao DA, Brenner MB, Lederer JA, Apruzzese W, Belmont HM, Izmirly PM, Zaminski D, Wu M, Connery S, Payan-Schober F, Furie R, Dall'Era M, Cho K, Kamen D, Kalunian K, Anolik J, Barnas J, Ishimori M, Weisman MH, Accelerating Medicines Partnership (AMP) RA/SLE Network; Buyon JP, Petri M.
Rheumatology (Oxford). 2022 Feb 25;keac067. doi: 10.1093/rheumatology/keac067. Online ahead of print.
PMID: 35212719

Urine Single-Cell RNA Sequencing in Focal Segmental Glomerulosclerosis Reveals Inflammatory Signatures
Latt KZ, Heymann J, Jessee JH, Rosenberg AZ, Berthier CC, Arazi A, Eddy S, Yoshida T, Zhao Y, Chen V, Nelson GW, Cam M ,Kumar P, Mehta M, Kelly MC, Kretzler M, Nephrotic Syndrome Study Network (NEPTUNE); Accelerating Medicines Partnership in Rheumatoid Arthritis and Systemic Lupus Erythematosus (AMP RA/SLE) Consortium; Ray PE, Moxey-Mims M, Gorman GH, Lechner BL, Regunathan-Shenk  R, Raj DS, Susztak K, Winkler CA, Kopp JB.
Kidney Int Rep. 2021 Nov 25;7(2):289-304. doi: 10.1016/j.ekir.2021.11.005. eCollection 2022 Feb.
PMID: 35155868

Rheumatoid Arthritis Synovial Inflammation Quantification Using Computer Vision.
Guan S, Mehta B, Slater D, Thompson JR, DiCarlo E, Pannellini T, Pearce-Fisher D, Zhang F, Raychaudhuri S, Hale C, Jiang CS, Goodman S, Orange DE.
ACR Open Rheumatol. 2022 Apr;4(4):322-331. doi: 10.1002/acr2.11381. Epub 2022 Jan 10.
PMID: 35014221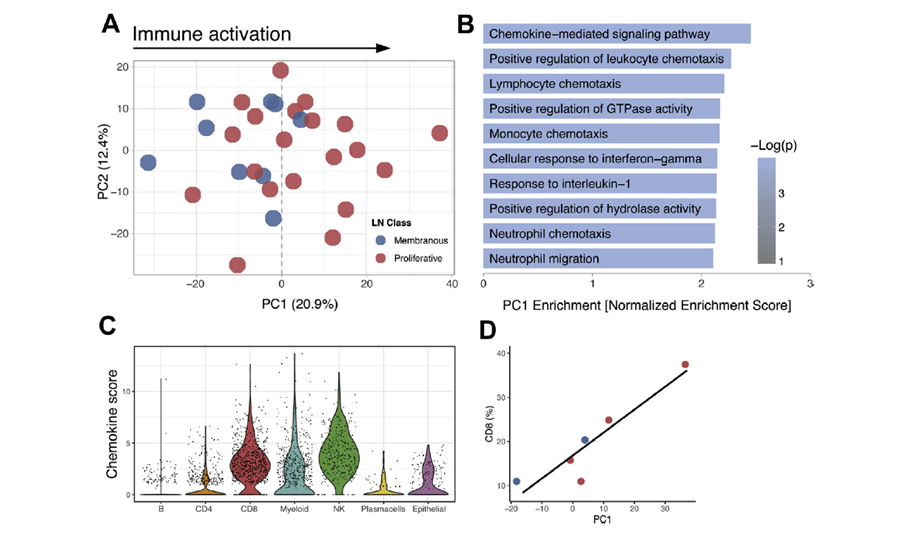 The Power of Systems Biology: Insights on Lupus Nephritis from the Accelerating Medicines Partnership
Fava A, Raychaudhuri S, Rao DA.
Rheum Dis Clin North Am. 2021 Aug;47(3):335-350. doi: 10.1016/j.rdc.2021.04.003.
PMID: 34215367

Safety of procuring research tissue during a clinically indicated kidney biopsy from patients with lupus: data from the Accelerating Medicines Partnership RA/SLE Network
Deonaraine KK, Carlucci PM, Fava A, Li J, Wofsy D, James JA, Putterman C, Diamond B, Davidson A, Fine DM, Monroy-Trujillo J, Atta MG, Haag K, Rao DA, Apruzzese W, Belmont HM, Izmirly PM, Wu M, Connery S, Payan-Schober F , Furie RA, Berthier CC, Dall'Era M, Cho K, Kamen DL, Kalunian K, Anolik J, Ishimori M, Weisman MH, Accelerating Medicines Partnership RA/SLE network; Petri MA, Buyon JP.
Lus Sci Med . 2021 Aug;8(1):e000522. doi: 10.1136/lupus-2021-000522.
PMID: 34389634



IFN-γ and TNF-α drive a CXCL10+ CCL2+ macrophage phenotype expanded in severe COVID-19 lungs and inflammatory diseases with tissue inflammation
Fan Zhang, Joseph R. Mears, Lorien Shakib, Jessica I. Beynor, Sara Shanaj, Ilya Korsunsky, Aparna Nathan, Accelerating Medicines Partnership Rheumatoid Arthritis and Systemic Lupus Erythematosus (AMP RA/SLE) Consortium, Laura T. Donlin & Soumya Raychaudhuri
Genome Medicine volume 13, Article number: 64 (2021). 2021 April 20.
PMID: 32793902

RNA Identification of PRIME Cells Predicting Rheumatoid Arthritis Flares.
Orange DE, Yao V, Sawicka K, Fak J, Frank MO, Parveen S, Blachere NE, Hale C, Zhang F, Raychaudhuri S, Troyanskaya OG, Darnell RB.
N Engl J Med. 2020 Jul 16;383(3):218-228. doi: 10.1056/NEJMoa2004114.
PMID: 32668112

PRIME Time in Rheumatoid Arthritis.
Gravallese EM, Robinson WH.
N Engl J Med. 2020 Jul 16;383(3):278-279. doi: 10.1056/NEJMe2018218.
PMID: 32668119

Integrated urine proteomics and renal single-cell genomics identify an IFN-γ response gradient in lupus nephritis.
Fava A, Buyon J, Mohan C, Zhang T, Belmont HM, Izmirly P, Clancy R, Trujillo JM, Fine D, Zhang Y, Magder L, Rao DA, Arazi A, Berthier CC, Davidson A, Diamond B, Hacohen N, Wofsy D, Apruzzese W; Accelerating Medicines Partnership in SLE network, Raychaudhuri S, Petri M.
JCI Insight. 2020 Jun 18;5(12):138345. doi: 10.1172/jci.insight.138345.
PMID: 32396533

Notch signaling drives synovial fibroblast identity and arthritis pathology.
Wei K, Korsunsky I, Marshall JL, Gao A, Watts GFM, Major T, Croft AP, Watts J, Blazar PE, Lange JK, Thornhill TS, Filer A, Raza K, Donlin LT; Accelerating Medicines Partnership Rheumatoid Arthritis & Systemic Lupus Erythematosus (AMP RA/SLE) Consortium, Siebel CW, Buckley CD, Raychaudhuri S, Brenner MB.
Nature. 2020 Jun;582(7811):259-264. doi: 10.1038/s41586-020-2222-z. Epub 2020 Apr 22.
PMID: 32499639

The basic and translational science year in review: Confucius in the era of Big Data
Pisetsky DS.
Semin Arthritis Rheum. 2020 Jun;50(3):373-379. doi: 10.1016/j.semarthrit.2020.02.010. Epub 2020 Mar 5.
PMID: 32238274

Accelerating Medicines Partnership: Organizational Structure and Preliminary Data From the Phase 1 Studies of Lupus Nephritis.
Hoover P, Der E, Berthier CC, Arazi A, Lederer JA, James JA, Buyon J, Petri M, Belmont HM, Izmirly P, Wofsy D, Hacohen N, Diamond B, Putterman C, Davidson A.
Arthritis Care Res (Hoboken). 2020 Feb;72(2):233-242. doi: 10.1002/acr.24066. Epub 2020 Jan 13.
PMID: 31502417 Review.

Author Correction: Tubular cell and keratinocyte single-cell transcriptomics applied to lupus nephritis reveal type I IFN and fibrosis relevant pathways
Der E, Suryawanshi H , Morozov P, Kustagi M , Goila B, Ranabothu S , Izmirly P, Clancy R, Belmont HM , Koenigsberg M, Mokrzycki M, Rominieki H, Graham JA, Rocca JP, Bornkamp N, Jordan N, Schulte E, Wu M, Pullman J, Slowikowski  K, Raychaudhuri S, Guthridge JM, James JA , Buyon JP, Tuschl T, Putterman C, Accelerating Medicines Partnership Rheumatoid Arthritis and Systemic Lupus Erythematosus (AMP RA/SLE) Consortium
Nat Immunol. 2019 Nov;20(11):1556. doi: 10.1038/s41590-019-0529-4.
PMID: 31605099

PD-1hiCXCR5- T peripheral helper cells promote B cell responses in lupus via MAF and IL-21.
Bocharnikov AV, Keegan J, Wacleche VS, Cao Y, Fonseka CY, Wang G, Muise ES, Zhang KX, Arazi A, Keras G, Li ZJ, Qu Y, Gurish MF, Petri M, Buyon JP, Putterman C, Wofsy D, James JA, Guthridge JM, Diamond B, Anolik JH, Mackey MF, Alves SE, Nigrovic PA, Costenbader KH, Brenner MB, Lederer JA, Rao DA; Accelerating Medicines Partnership (AMP) RA/SLE Network.
JCI Insight. 2019 Oct 17;4(20):e130062. doi: 10.1172/jci.insight.130062.
PMID: 31536480

Publisher Correction: The immune cell landscape in kidneys of patients with lupus nephritis
Arazi A, Rao DA, Berthier CC, Davidson A, Liu Y, Hoover PJ, Chicoine A, Eisenhaure TM, A Jonsso H, Li  S, Lieb DJ, Zhang F, Slowikowski K, Browne EP , Noma A, Sutherby D, Steelman S, Smilek DE, Tosta P, Apruzzese W, Massarotti E, Dall'Era M, Park M, Kamen DL, Furie RA , Payan-Schober F , Pendergraft 3rd WF, McInnis EA, Buyon JP, Petri MA, Putterman C, Kalunian KC , Woodle  ES, Lederer JA, Hildeman DA, Nusbaum C , Raychaudhuri S, Kretzler M, Anolik JH, Brenner MB, Wofsy D, Hacohen N, Diamond B, Accelerating Medicines Partnership in SLE network
Nat Immunol. 2019 Oct;20(10):1404. doi: 10.1038/s41590-019-0473-3.
PMID: 31409923

Elucidating the molecular circuitry of autoimmunity.
Varadarajan N, Mohan C.
Nat Immunol. 2019 Jul;20(7):777-778. doi: 10.1038/s41590-019-0436-8.
PMID: 31209402

Distinct fibroblast subsets drive inflammation and damage in arthritis.
Croft AP, Campos J, Jansen K, Turner JD, Marshall J, Attar M, Savary L, Wehmeyer C, Naylor AJ, Kemble S, Begum J, Dürholz K, Perlman H, Barone F, McGettrick HM, Fearon DT, Wei K, Raychaudhuri S, Korsunsky I, Brenner MB, Coles M, Sansom SN, Filer A, Buckley CD.
Nature. 2019 Jun;570(7760):246-251. doi: 10.1038/s41586-019-1263-7. Epub 2019 May 29.
PMID: 31142839

Tubular cell and keratinocyte single-cell transcriptomics applied to lupus nephritis reveal type I IFN and fibrosis relevant pathways.
Der E, Suryawanshi H, Morozov P, Kustagi M, Goilav B, Ranabothu S, Izmirly P, Clancy R, Belmont HM, Koenigsberg M, Mokrzycki M, Rominieki H, Graham JA, Rocca JP, Bornkamp N, Jordan N, Schulte E, Wu M, Pullman J, Slowikowski K, Raychaudhuri S, Guthridge J, James J, Buyon J, Tuschl T, Putterman C; Accelerating Medicines Partnership Rheumatoid Arthritis and Systemic Lupus Erythematosus (AMP RA/SLE) Consortium.
Nat Immunol. 2019 Jul;20(7):915-927. doi: 10.1038/s41590-019-0386-1. Epub 2019 May 20.
PMID: 31110316

HBEGF(+) macrophages in rheumatoid arthritis induce fibroblast invasiveness.
Kuo D, Ding J, Cohn IS, Zhang F, Wei K, Rao DA, Rozo C, Sokhi UK, Shanaj S, Oliver DJ, Echeverria AP, DiCarlo EF, Brenner MB, Bykerk VP, Goodman SM, Raychaudhuri S, Rätsch G, Ivashkiv LB, Donlin LT.
Sci Transl Med. 2019 May 8;11(491):eaau8587. doi: 10.1126/scitranslmed.aau8587.
PMID: 31068444

Defining inflammatory cell states in rheumatoid arthritis joint synovial tissues by integrating single-cell transcriptomics and mass cytometry.
Zhang F, Wei K, Slowikowski K, Fonseka CY, Rao DA, Kelly S, Goodman SM, Tabechian D, Hughes LB, Salomon-Escoto K, Watts GFM, Jonsson AH, Rangel-Moreno J, Meednu N, Rozo C, Apruzzese W, Eisenhaure TM, Lieb DJ, Boyle DL, Mandelin AM 2nd; Accelerating Medicines Partnership Rheumatoid Arthritis and Systemic Lupus Erythematosus (AMP RA/SLE) Consortium, Boyce BF, DiCarlo E, Gravallese EM, Gregersen PK, Moreland L, Firestein GS, Hacohen N, Nusbaum C, Lederer JA, Perlman H, Pitzalis C, Filer A, Holers VM, Bykerk VP, Donlin LT, Anolik JH, Brenner MB, Raychaudhuri S.
Nat Immunol. 2019 Jul;20(7):928-942. doi: 10.1038/s41590-019-0378-1. Epub 2019 May 6.
PMID: 31061532

Methods for high-dimensional analysis of cells dissociated from cryopreserved synovial tissue.
Donlin LT, Rao DA, Wei K, Slowikowski K, McGeachy MJ, Turner JD, Meednu N, Mizoguchi F, Gutierrez-Arcelus M, Lieb DJ, Keegan J, Muskat K, Hillman J, Rozo C, Ricker E, Eisenhaure TM, Li S, Browne EP, Chicoine A, Sutherby D, Noma A; Accelerating Medicines Partnership RA/SLE Network, Nusbaum C, Kelly S, Pernis AB, Ivashkiv LB, Goodman SM, Robinson WH, Utz PJ, Lederer JA, Gravallese EM, Boyce BF, Hacohen N, Pitzalis C, Gregersen PK, Firestein GS, Raychaudhuri S, Moreland LW, Holers VM, Bykerk VP, Filer A, Boyle DL, Brenner MB, Anolik JH.
Arthritis Res Ther. 2018 Jul 11;20(1):139. doi: 10.1186/s13075-018-1631-y.
PMID: 29996944

Identification of Three Rheumatoid Arthritis Disease Subtypes by Machine Learning Integration of Synovial Histologic Features and RNA Sequencing Data.
Orange DE, Agius P, DiCarlo EF, Robine N, Geiger H, Szymonifka J, McNamara M, Cummings R, Andersen KM, Mirza S, Figgie M, Ivashkiv LB, Pernis AB, Jiang CS, Frank MO, Darnell RB, Lingampali N, Robinson WH, Gravallese E; Accelerating Medicines Partnership in Rheumatoid Arthritis and Lupus Network, Bykerk VP, Goodman SM, Donlin LT.
Arthritis Rheumatol. 2018 May;70(5):690-701. doi: 10.1002/art.40428. Epub 2018 Apr 2.
PMID: 29468833

The immune cell landscape in kidneys of patients with lupus nephritis.
Arazi A, Rao DA, Berthier CC, Davidson A, Liu Y, Hoover PJ, Chicoine A, Eisenhaure TM, Jonsson AH, Li S, Lieb DJ, Zhang F, Slowikowski K, Browne EP, Noma A, Sutherby D, Steelman S, Smilek DE, Tosta P, Apruzzese W, Massarotti E, Dall'Era M, Park M, Kamen DL, Furie RA, Payan-Schober F, Pendergraft WF 3rd, McInnis EA, Buyon JP, Petri MA, Putterman C, Kalunian KC, Woodle ES, Lederer JA, Hildeman DA, Nusbaum C, Raychaudhuri S, Kretzler M, Anolik JH, Brenner MB, Wofsy D, Hacohen N, Diamond B; Accelerating Medicines Partnership in SLE network.
Nat Immunol. 2019 Jul;20(7):902-914. doi: 10.1038/s41590-019-0398-x. Epub 2019 Jun 17.
PMID: 31209404

Single cell RNA sequencing to dissect the molecular heterogeneity in lupus nephritis.
Der E, Ranabothu S, Suryawanshi H, Akat KM, Clancy R, Morozov P, Kustagi M, Czuppa M, Izmirly P, Belmont HM, Wang T, Jordan N, Bornkamp N, Nwaukoni J, Martinez J, Goilav B, Buyon JP, Tuschl T, Putterman C.
JCI Insight. 2017 May 4;2(9): e93009. doi: 10.1172/jci.insight.93009. eCollection 2017 May 4.
PMID: 28469080